'Grand Alliance' Holds Field Hearing in Baltimore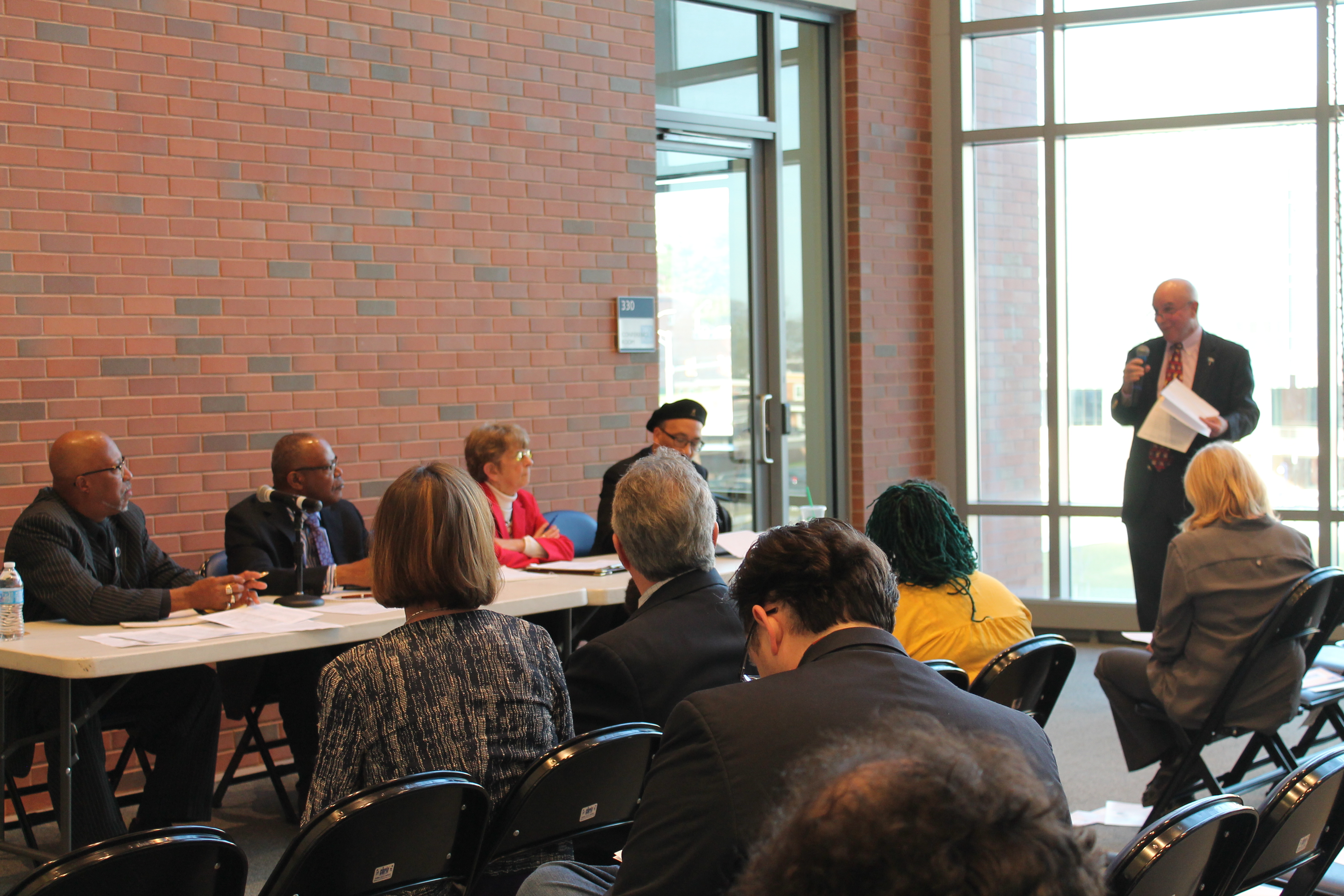 The Postal Service is indeed worth saving. That was the consensus of participants in the first field hearing sponsored by A Grand Alliance to Save Our Public Postal Service (AGA), held at Coppin State University in Baltimore on March 23.
A panel of community leaders heard testimony from people who discussed what the Postal Service means to them and their families. Mary Pat Clarke, Baltimore City Councilmember; Rev. Dr. Alvin C. Hathaway, senior pastor of Union Baptist Church, and Dr. Marvin "Doc" Cheatham,  civil rights activist, served on the panel.  Bill Fletcher Jr. served as the moderator.
John Seibel, an elections expert and president of True Ballot, said degraded service standards are affecting his company, which provides balloting services to Native American tribal associations, labor unions and other organizations.
"The time that it is taking for mail to get from one place to another has slipped. It has slipped significantly to the point where it can, it has, and it will have the possibility to ruin elections." Mail delays cannot be allowed to "affect the machinery of democracy," he said.
Seibel said he wasn't there to bash the Postal Service, "but the efficiency of the Postal Service is really important for me to stay in business."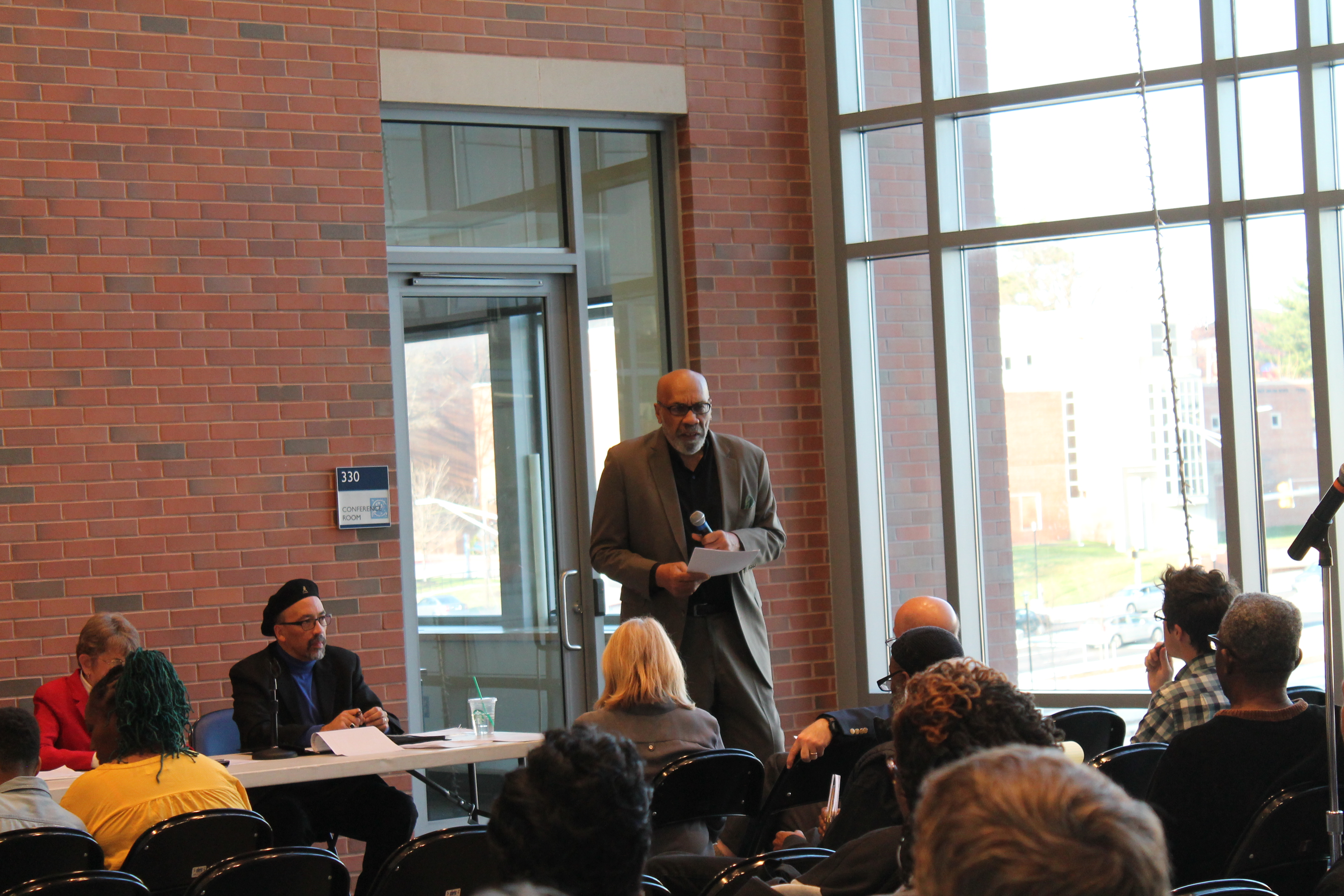 Dr. Ken Morgan, a Coppin State University professor, described the influence of his uncle, who was a letter carrier for 40 years. He didn't have a high level of education, Morgan said, but he was able to provide for his family.
"He took me to visit his postal brothers. They had the desire to make the world a better place," Morgan recalled. "They all had an enriched life, although they were far from being rich," he said.
"I equate this working-class job with success, a road to a decent wage for working-class blacks and all working people. Now this pathway is being destroyed," he said.
Jim Baldridge, president of the Maryland/DC chapter of the Alliance for Retired Americans, stressed how important the post office is to seniors and the disabled, who depend on it for medicine and checks.
Baldridge noted that postal banking would be a benefit. "In my neighborhood in Baltimore, there were two banks an easy walk from my house. Now there are none," he explained. "The post offices are the lifeline of small communities across the country. The answer is postal banking."
Patricia Watson, a small business owner said privatizing the Postal Service would diminish exactly what it stands for: service.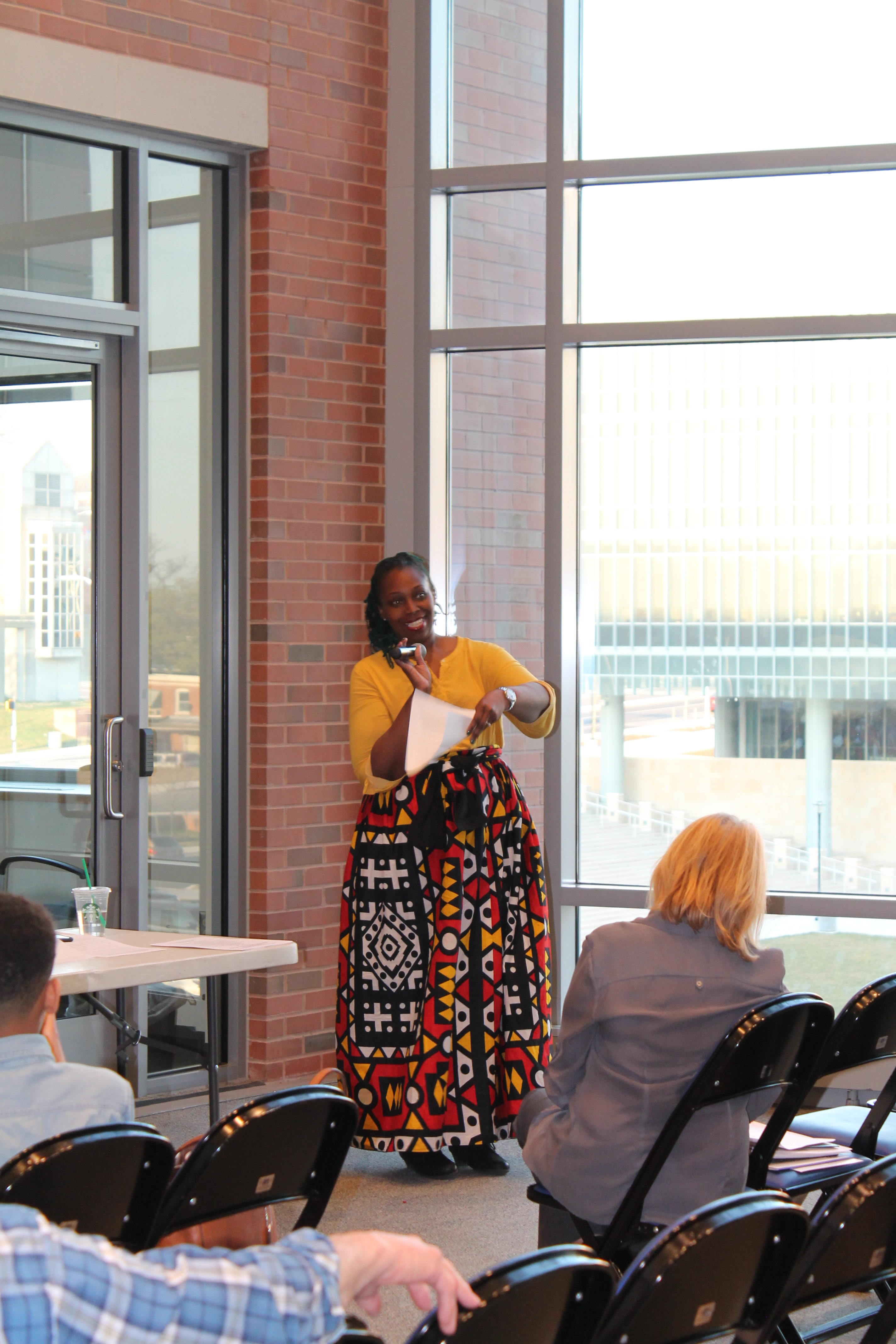 "As much as I do not want to rely on places like Staples, I have to for my normal postal needs. The post office either is too crowded or the hours are not convenient to serve me. More often than not, when I am able to make it into the actual office, there are always long lines out of the door."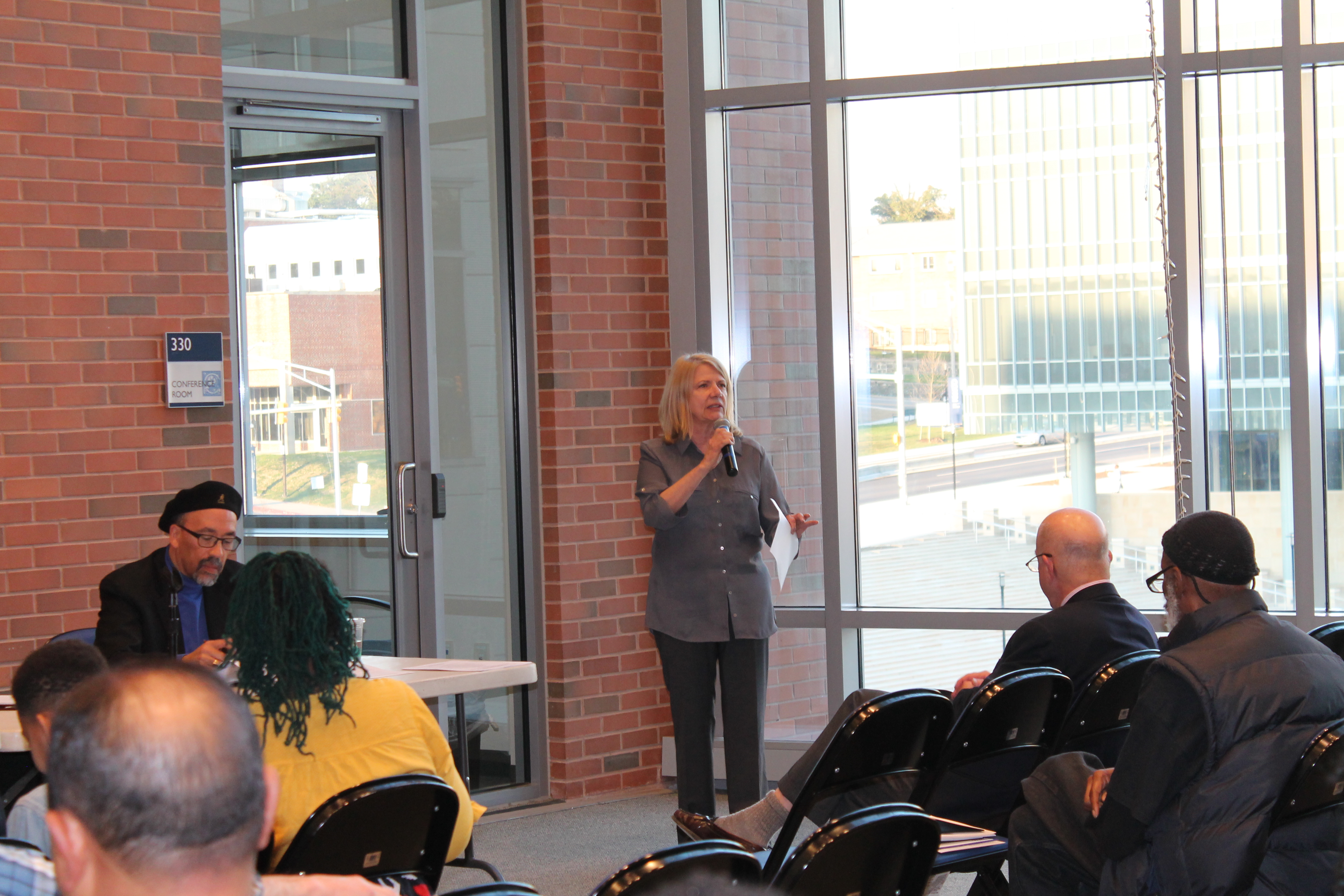 Sharon Black, of the Baltimore People Power's Assembly, emphasized the importance of postal services to low-income communities.  "Many don't have access to the Internet and rely on post office boxes for employment and to communicate," she explained. "The majority of this city lives paycheck to paycheck and don't have bank accounts. They would benefit from postal banking," she added
"Private businesses traditionally underserve the communities that they deem undesirable.  How often do we hear stories of private companies that refuse to go into certain neighborhoods?" 
Audience members also spoke up, making connections between the fight to preserve the public Postal Service with the fight to protect other public services.
Witold Skwierczynski said that Social Security offices are shutting down just like post offices – and there is no substitute for face-to-face service.
"Some people believe that everything should be privatized, but what you will see is poor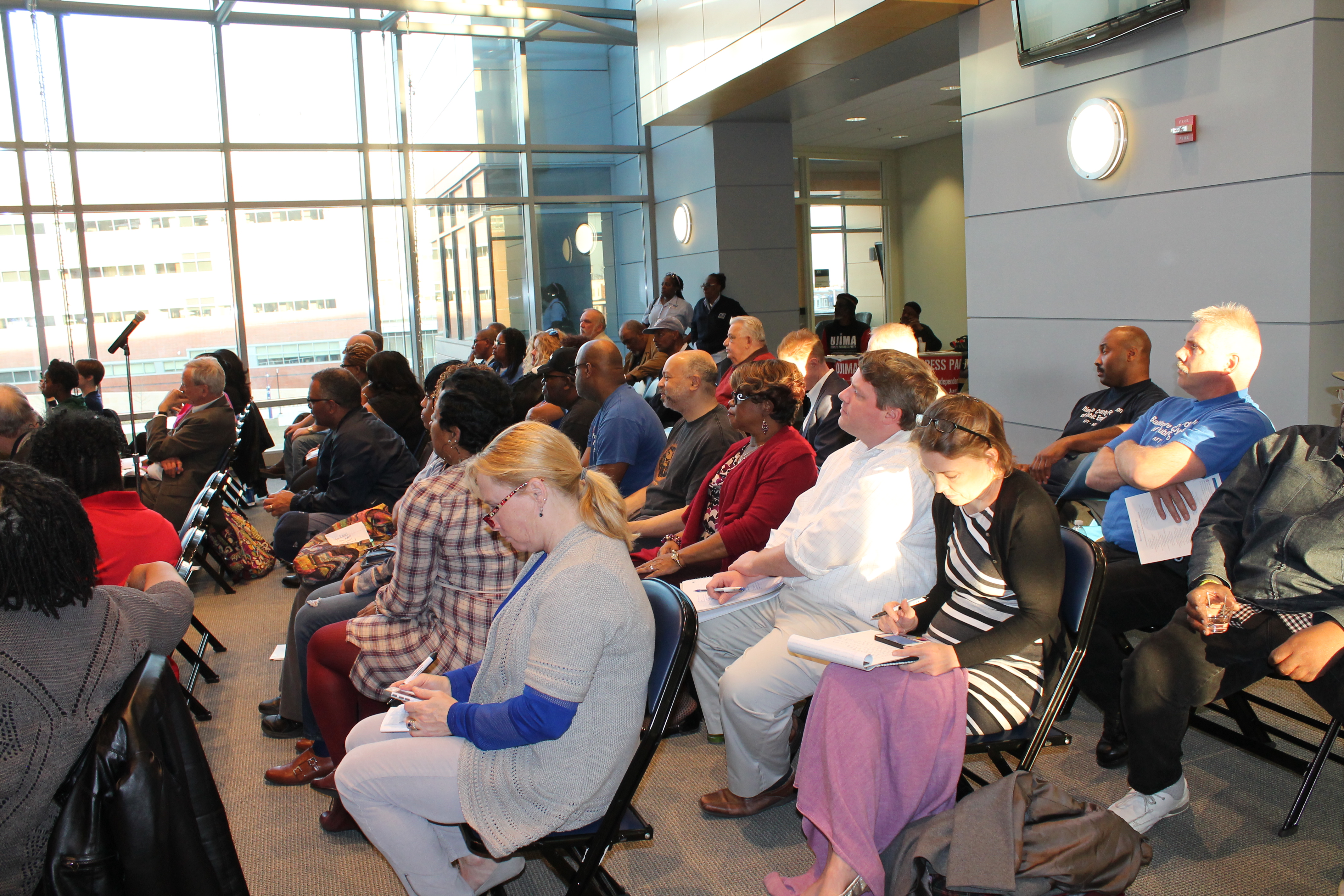 service, low-wage workers and big profits," he said. "Don't go to Staples. Don't buy your stamps at Giant. Go to the post office, maintain that service. Make sure they survive."
Lisa Foust was concerned about the proposed closing of a post office in Aberdeen, MD, that serves a large military base. "I don't think people understand the significance of the post office," she said. "People have personal mail sent there. We travel a lot, so closing that location would devastate how we operate."
Local AGA affiliates organized the event, including the Baltimore Local APWU, Branch 176 of the National Association of Letter Carriers and the Alliance for Retired Americans. Members of AGA organizations, including AFGE, AFSCME and ATU, participated. 
Stay in touch with your union
Subscribe to receive important information from your union.