Affordable Financial Services for All
(This article first appeared in the March-April 2016 issue of The American Postal Worker magazine.)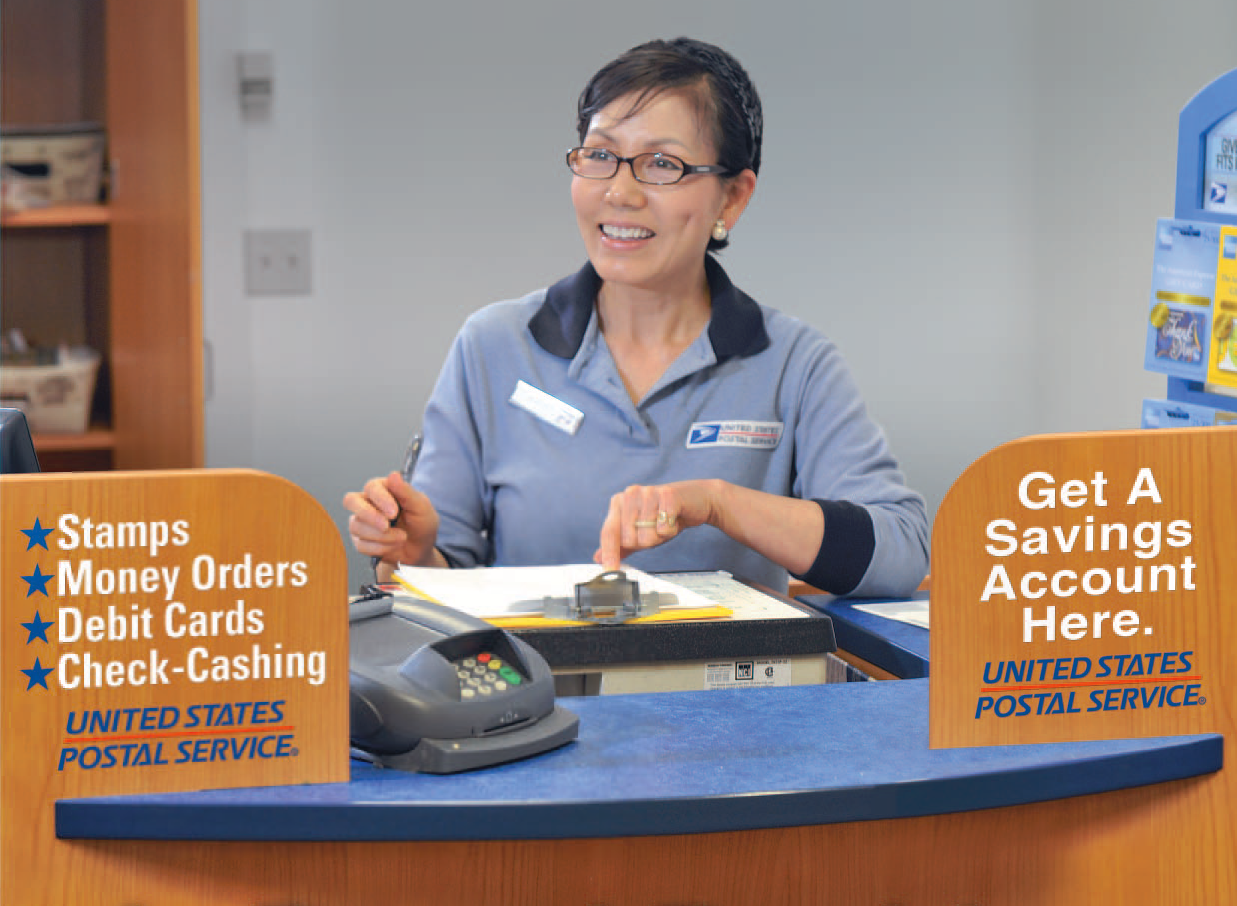 "One of the great ironies in modern America is that the less money you have, the more you pay to use it. The American banking industry has stopped serving those who are too poor to bank.  Those who are 'unbanked' must pay high fees to 'fringe banks' just to turn their paychecks into cash, pay their monthly bills, or send money to a spouse or a child…  For these families, the total price of simple financial service each month is more than they spend on food. Indeed, it is very expensive to be poor." – "How the Other Half Banks," by Mehrsa Baradaran
The post office offered bank services in the past and can do it again. A bank crisis in 1907 led to the passage of the Postal Savings System Act of 1910, which brought financial stability to the country and served those who lacked access to banking services. The program was discontinued in 1967.
The 2008 financial crisis and the rise of predatory lenders have contributed to the current calls for postal banking, which is increasingly in the news, gathering public and political support.
With the APWU playing a leadership role on the issue, the movement for postal banking is growing. The support of Sen. Elizabeth Warren (D-MA) and especially presidential candidate Bernie Sanders (I-VT) has also helped make postal banking a popular issue. 
It is therefore essential that APWU members – especially window clerks – take time to understand the unique opportunity before us and play an active role in advocating for the Postal Service to expand the financial services it offers.
Postal banking would significantly improve the financial situation of many Americans; it would increase Clerk Craft jobs, and help ensure the long-term financial viability of the Postal Service.
Lack of Access
A January 2014 paper by the USPS Office of Inspector General (OIG), Providing Non-Bank Financial Services for the Underserved, shows how USPS financial services could assist the "unbanked" (people who don't have a checking or savings account) and the "underbanked" (people who have a bank account but used payday loans or other non-bank financial services during the past year).
The study reports:
38 percent of the population or about 88 million Americans have no bank account, or have a bank account but must also rely upon payday loans or other similar methods to access money. 
59 percent of post offices are in ZIP codes with no banks or with just one bank branch.
93 percent of the bank branch closings since late 2008 have been in ZIP codes with household income levels that are below the national median.
The average underserved household spends $2,412 each year just on interest and fees for "alternative" financial services.
Nearly half of U.S. adults could not access $2,000 within 30 days to respond to an emergency.
Payday loans, which are advertised as loans that should be repaid with the borrower's next paycheck, typically result in a 391 percent annual interest rate. That's because most borrowers are unable to repay the loans in full with their next paycheck, so they renew the loans repeatedly and remain in debt for an average of five months per year.
Well-Positioned
The USPS has a noble mission: To bind the nation together by providing prompt, reliable, and efficient mail services to all areas and all communities. The Postal Service is well-positioned to provide the same type of universal, affordable access to financial services.   
There is a post office in virtually every ZIP code – within a reasonable traveling distance for most customers.
Window clerks have a history of successfully providing financial services, such as money orders.
The USPS provided financial services through the Postal Savings System Act from 1911 to 1967. 
There is space in existing post offices. Windows can be quickly set up for the added service and additional employees.
Crimes against the post office are federal offenses, which discourages theft. In addition, strong security protections could be added, if necessary, in problem areas.
The Postal Service is the most trusted federal agency.
Benefits of Postal Banking
Equal Access and Fair Banking Rates: People would be able to bank at their nearby post office.  Instead of paying interest rates as high as 391 percent to predatory lenders, people could pay a reasonable rate. The OIG estimated that on a $375 loan, the Postal Service would charge, "less than a tenth of the fees charged for a typical payday loan of the same size."
Universal Service: The Postal Service's obligation to serve all communities – and the principle of basic fairness – should apply to financial services as well. All Americans should have equal access to affordable banking services, regardless of where they live. 
More Clerk Craft Union Jobs: The increase in work will result in an increase of union-wage Clerk Craft jobs, replacing the low-wage jobs currently offered by payday lenders and other financial predators.
A Financially Thriving Postal Service: Offering postal banking will strengthen the role and importance of the Postal Service in civic life. Other countries' post offices offer financial services and these services account for a large portion of their revenue. For example, 67 percent of Italy's post office profits come from postal banking; for Switzerland, the figure is 71 percent.
Privacy: Commercial banks can access their customers' private information, which they use for marketing and other purposes. At the Postal Service, information is private. It cannot be sold for marketing or any other nefarious purpose.
Worth Fighting For: Postal banking could provide many positive benefits for postal workers and the public. It is something worth learning about and fighting for.
For more information, visit CampaignforPostalBanking.org
Stay in touch with your union
Subscribe to receive important information from your union.