The Case for Postal Banking
The Postal Service Already Provides Financial Services to the Unbanked
By APWU President Mark Dimondstein
A response to "The Case Against Postal Banking," posted by Kevin Drum on Nov. 12, 2014
Kevin Drum should do his homework. His blog post about postal banking reveals a fundamental lack of understanding about the needs of the "unbanked" population, the services the USPS already provides them, and the Postal Service's unique qualifications to help the millions of Americans who pay more just because they are part of the working poor.
Let's start with the needs of the unbanked. Almost 70 million adults – comprising more than a quarter of U.S. households – do not have a bank account or rely on payday loans, check cashers, or other fringe lenders to cash their paychecks and meet other basic financial needs. Being unbanked translates into significant costs for families. Most payday lenders levy fees that typically equate to a 391 percent interest rate. Fees from payday lenders, check cashers, and other predatory lenders cost unbanked families about 10 percent of their income every year. This amounts to $89 billion per year to unregulated lenders.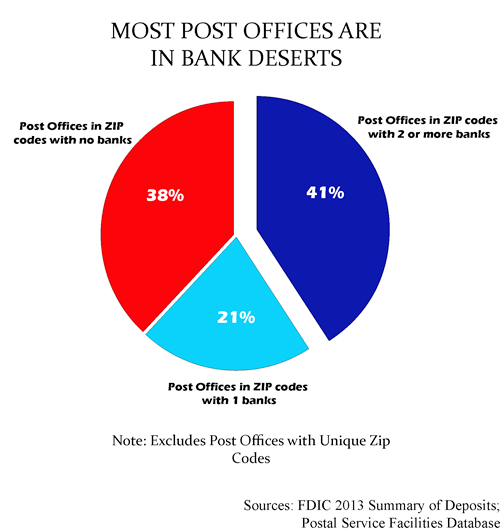 If you are among the 70 million adults who must pay a fee simply to cash your paycheck, chances are high that your local bank abandoned your neighborhood long ago. The results are tangible for low-income neighborhoods and many rural communities. Of bank branch closings since 2008, 93 percent have been in neighborhoods with a median income level below the national average. Fringe lenders have nimbly stepped into this void. Payday lenders and check-cashers, among other fringe lenders, are not regulated by usury laws and thus charge significantly higher fees than traditional banks.
That's where the U.S. Postal Service comes in.
Post offices are located in bank deserts. More than a third (38 percent) of post offices in the United States are in zip codes without a single bank. Almost a quarter more (21 percent) are in zip codes with only one bank. Banks may have fled urban and rural communities alike, but post offices have not. 
Post offices already have an established relationship with the unbanked. Whereas many unbanked individuals have never stepped foot in a bank, post offices are familiar to many without a bank account. In bank deserts, the most common transaction in post offices is money orders, which are especially beneficial to those without bank accounts. The Postal Service sold 109 million money orders in 2012, and is the leader in the U.S. domestic paper money order market. This product flourishes without any marketing by the Postal Service, simply because it fills a need.
Post offices are trusted. Kevin Drum seems to sniff at the idea that "trust" makes a difference in Americans' decision to go to the post office. Yet studies show that many of the unbanked feel uncomfortable in banks. Contrast this distrust with Americans' overwhelming comfort with their local post office – it was recently identified as the fourth most trusted company in the United States. And, in a November 2014 Gallup survey, 72 percent of Americans said the U.S. Postal Service is doing an excellent or good job. Younger respondents gave the Postal Service the highest marks: 81 percent of 18-to-29-year-olds rated its job as excellent or good, while 65 percent of those over 65 said the same thing.
Post offices already provide some financial services. Along with money orders, the Postal Service sells international money orders and electronic money transfers.
Postal Service window clerks are already trained in financial services. Postal retail clerks receive 32 hours of intense classroom training, followed by 40 hours of on-the-job training alongside experienced window clerks. All clerks who sell USPS financial products are trained pursuant to the Bank Secrecy Act, and must receive yearly certifications. In addition to handling money orders, transfers, and debit cards, postal window clerks have experience cashing checks, processing refunds, renting post office boxes and receiving rental payments, preparing bank deposits, and maintaining business accounts.
Postal Service employees are unionized. The U.S. Postal Service has long been a source of stable income and good benefits for its employees, which is good for the entire community. In 2013, the median wage for a postal employee was $25.88 an hour. In contrast, bank tellers earned on average just $12.21 an hour.
The banking industry is more heavily subsidized than ever before, and yet it has abandoned communities that are most in need of its services. Millions of Americans do not have a bank account, or rely on costly services to make ends meet. The Postal Service is well-positioned to provide basic financial services to unbanked families. These services, provided at affordable rates, will help families save money and build up credit.
The Postal Service has rare physical access to communities in bank deserts, and an ongoing relationship with the unbanked. These two criteria make it uniquely qualified to provide financial services to those who need it most.
It's time to provide an alternative to the greedy, private, too-big-to-fail, too-big-to-jail banking system. It's time for a public option of postal banking.
Stay in touch with your union
Subscribe to receive important information from your union.