Premium Conversion Legislation for Retirees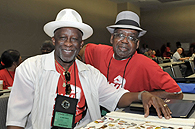 (This article appeared in the Nov./Dec. 2003 issue of The American Postal Worker magazine)
John R. Smith, Director
On July 16 - more than three years after the legislation was first introduced - the House Civil Service and Agency Reorganization Subcommittee approved Rep. Tom Davis' (R-VA) bill to allow federal and military retirees to pay health care premiums with pre-tax dollars. The full House Government Reform Committee, which Davis chairs, approved this "Premium Conversion" bill (H.R. 1231) on Sept. 25.
Since 2000, active federal employees have been paying their health insurance premiums with pre-tax dollars through a similar Premium Conversion program. Davis' legislation would extend this perk to retirees enrolled in the Federal Employees Health Benefits Plan (FEHB).
Retirees have a great concern for this legislation, and only in part because being on fixed incomes means they are especially squeezed by rising insurance costs. It's also a matter of fairness.
Momentum and Savings
Federal retirees are looking to build on the momentum they have gained this year in Congress.
According to a congressional estimate, Premium Conversion saves the typical federal employee about $435 a year. At the hearing, Davis pointed out how much this means to a person living on a fixed income, noting that for some it is the equivalent of an annual utility bill or car insurance payment. Some retirees see it as the amount they pay for round-trip airfare to see their family.
FEHBP premiums will go up an average of 10.6 percent in 2004, while the cost-of-living adjustments provided to Civil Service retirees will have increased only 2 to 2.3 percent.
The Ways and Means
Davis' Premium Conversion bill is moving on. With 289 cosponsors, more than half of the House of Representatives supports it. However, the bill still faces some formidable hurdles because the House Ways and Means and Armed Services committees must also approve the measure before it can reach the House floor for a final vote.
The Ways and Means committee, for example, has jurisdiction over the tax code and could object to the bill not only because of its potential cost in lost revenue (estimated as high as $7 billion over 10 years), but also because of the precedent it would set for private-sector retirees, who probably would seek the same benefit. The impact on the national treasury easily can be imagined.
The APWU Retirees Department is asking you to write to Rep. Davis (2348 Rayburn House Office Building, Washington, DC 20515), and thank him for sponsoring this legislation. Retirees should also contact their own representatives and ask them to support the Premium Conversion legislation.
Stay in touch with your union
Subscribe to receive important information from your union.