War in Afghanistan Takes the Life of Son of APWU Member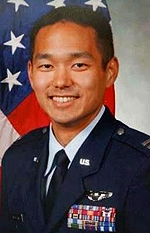 The War in Afghanistan touched the APWU family on April 27, when Capt. Reid K. Nishizuka, 30, was killed in a plane crash near the Kandahar Airfield. Capt. Nishizuka, of Kailua, HI, was the son of Norene Nishizuka, who is a Clerk in Henderson, NV. She is a member of the Las Vegas Area Local.
The cause of crash, which took four lives, is under investigation. Funeral Services will be held on May 11, at the Central Union Church in Honolulu.
Janet Purnell, secretary-treasurer of the Nevada Postal Workers Union, said Nishizuka's family was very proud of Reid's accomplishments and is heartbroken by the loss.
Nishizuka's father said his son's affection for planes started at a young age. "From when he was 5 years old, he'd spot planes in the sky and know exactly what kind of plane it was," the father told KHON News.
Nishizuka's love of flying motivated him to join the Jr. ROTC in high school and to earn a degree in Aeronautical Engineering from the University of Notre Dame.
Nishizuka was assigned to the 427th Reconnaissance Squadron at the Beale Air Force Base in California. He logged 2,434 flying hours, more than half of them in combat, and participated in more than 200 combat missions. He served three tours in Iraq and was serving his second tour in Afghanistan at the time of the crash.
The other three airmen killed in the crash were Capt. Brandon L. Cyr of Woodbridge VA, Staff Sgt. Richard A. Dickson of Rancho Cordova CA, and Staff Sgt. Daniel N. Fannin of Morehead KY.
APWU President Cliff Guffey said, "We grieve this tragic loss of life and offer our heartfelt sympathy to Capt. Nishizuka's family, friends and loved ones."
"Each and every life lost is painful for the family but each is also a devastating loss for our nation," said Human Relations Director Sue Carney. "Since 9/11, 6,677 U.S. Service members have fallen, and 50,684 have been wounded in action. We owe a lifetime of gratitude to the men and women of our Armed Forces and to their families," she said.
Stay in touch with your union
Subscribe to receive important information from your union.