Addressing Veterans' Unemployment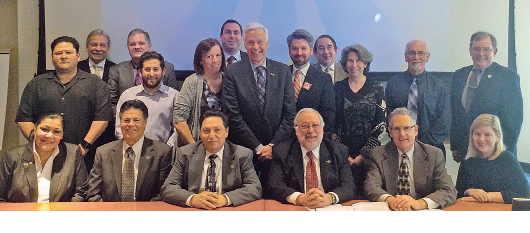 (This article first appeared in the May-June 2016 issue of The American Postal Worker magazine.)
The APWU recently joined with representatives of other unions to meet with Michael Michaud, the new Assistant Secretary of the U.S. Department of Labor Veterans' Employment and Training Services (DOL VETS). Michaud is a longtime member of
the United Steelworkers. Prior to his appointment, Michaud served 12 years as a member of Congress from Maine, advocating for veterans on the House Veterans' Affairs Committee and the Health Subcommittee.
On March 2, union leaders gathered with the Michaud to discuss how we can work together to help veterans, transitioning service members, military spouses and caregivers find good jobs. Despite strides being made, millions of veterans remain homeless, hungry, unemployed and underemployed.
Veterans are twice as likely to become chronically homeless as other Americans. They represent 11 percent of the adult civilian population, but account for 26 percent of the homeless population. African-Americans and Hispanics account for 10.4 percent and 3.4 percent, respectively, of our veteran population but equal roughly 45 percent of homeless veterans.
It's not surprising that these statistics coincide with the veteran unemployment rates reported by the Bureau of Labor Statistics. Veteran unemployment is highest among African-Americans, Latinos and women. It has skyrocketed in the last decade among younger post- 9/11 combat veterans who are suffering homelessness and food insecurities at alarming rates because of an inability to find good paying, secure jobs. Can we really ignore the correlation between unemployment and the high rate of veteran suicides? If we want to make a meaningful impact on the lives of veterans and their families, we must address unemployment.
During the meeting, Michaud stated his immediate objectives. They included: preparing transitioning service members and veterans for careers; enhancing job-seeking tools; creating good paying, secure job opportunities; and protecting rights under the Uniform Services and Reemployment Rights Act (USERRA) and the Veterans' Preference Act (VPA). Grassroots campaigns to educate veterans, service members and employers about their respective rights and obligations, and inform them about available resources, will also be incorporated.
Michaud acknowledged that the most effective ways to combat issues that plague our veterans are community based. VETS is working to bridge relationships at every level with the Department of Defense, Congress, veteran service organizations, employers and unions. Building upon the DOL Transition Assistance Programs (TAP), launching the veterans.org website – a one stop employment services shop – as well as mandating musters to military life cycle, and readiness programs are also instruments of the mission.
VETS is cultivating partnerships with Soldier for Life, which has already saved $250 million in unemployment costs; DoD Skilled Bridge Authority to promote civilian job training opportunities and Hiring Our Heroes to coordinate business and union participation in job fairs and transition summits being hosted on base.
This offers great potential for APWU local and state involvement. Michaud also hopes to work closely with states to improve programs that address underserved and incarcerated veterans, housing, grants and employer incentives.
During the discussion, APWU highlighted USERRA's failure to protect jobs of Guardsmen and Reservists who deploy for more than five years. We pointed out that the list of VPA-reserved positions is antiquated. We objected to the Postal Service's unwillingness to maintain hiring registers and its refusal to open competitive exams for Veteran Preference Eligibles as required.
Union leaders, including the APWU, raised concerns over employers bolstering their veteran percentages by hiring veterans only to release them during probationary periods or before career conversions.
These factors, coupled with low wages, no benefits and limited work hours contribute to low retention ratings and high unemployment. Michaud agreed to work with APWU in an effort to resolve our concerns. 
Stay in touch with your union
Subscribe to receive important information from your union.