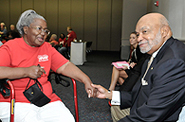 (This article appeared in the July/August 2007 issue of The American Postal Worker magazine)
Doug Holbrook, Director
We often receive calls from both active and retired employees who wonder why they should join the APWU Retirees Department. The answer is very simple.
How could you consider not joining the union that has represented you and your family for your entire postal career? The union that has been responsible for negotiating your wages, fringe benefits, and working conditions.
Let's look at wages. The pay for a Level 5, Step O employee in 1969 was $8,400; the expected amount at the conclusion of the current agreement will be $52,000, before overtime. If the APWU had not been so successful on your behalf during your working years, your retirement would be very difficult.
One of the union's major legislative goals is to protect retirement and health benefits for both active and retired workers. Other organizations also work to protect the retirement and healthcare benefits of federal and postal employees, and these efforts are appreciated. But I feel compelled to remind our members that the organization that negotiates your benefits and the salary upon which your retirement will be based is the union.
Whenever and wherever we have been faced with legislative or contractual matters that would adversely affect our members or retirees, this union has responded. So when our members retire, they should have no reservations about continuing their participation in the APWU.
Healthcare Premiums
H.R. 1256, which would increase the government's contribution to the Federal Employees Health Benefit Program (FEHB) plans, was introduced March 1, 2007. Sponsored by House Majority Leader Steny Hoyer (D¬MD) and co-sponsored by Rep. Frank Wolf (R-VA), this measure would raise the government's premium share from the current rate of 72 percent to 80 percent.
According to the Office of Personnel Management (OPM), the bill would save the typical federal or postal retiree approximately $500 each year. If passed, the legislation would take some of the bite out of rising health insurance costs, and would therefore make it easier for federal and postal retirees to afford quality healthcare.
The bill has been referred to the House Committee on Oversight and Government Reform, chaired by Rep. Henry Waxman (D-CA). Please contact your representatives and ask for their support of H.R. 1256, which would amend Title 5 of the U.S. Code.
State Taxes/Annuities
Each state has its own tax code, which determines whether your federal annuity is taxable and, if so, to what extent.
If your state does tax federal annuities, you may want to enroll in a state income tax withholding program. States with no personal income tax on annuities are Alaska, Florida, Nevada, New Hampshire, South Dakota, Tennessee, Texas, Washington, and Wyoming.
States that have income taxes but generally exempt the total amount of civil service annuities include Alabama, Hawaii, Illinois, Kansas, Kentucky, Louisiana, Massachusetts, Michigan, Mississippi, New York, North Carolina, Oregon, Pennsylvania, and Wisconsin.
Some states have agreements with the Office of Personnel Management under which you can arrange to have taxes withheld from your annuity. To check on your state's status, and to start, stop, or change your income tax withholding if your state is a participating jurisdiction, call OPM's Annuitant Express (800-409-6528).
Some states also offer "tax treatment" for long-termcare insurance premiums. Check with your state tax department for details.
Special Recognition(s)
The Detroit Post Office is where APWU has a very special member, John Uchwat, who recently completed his 61st year of working for the Postal Service. He has not announced when he intends to call it quits, but whenever he does we look forward to his continued union membership in the Retirees Department. Congratulations, Brother Uchwat! 
 
Retirees contributed $102,962 to our Committee On Political Action during the first four months of 2007. Everyone in the union extends their sincere thanks for this tremendous support for COPA.
Stay in touch with your union
Subscribe to receive important information from your union.