Long-Term Care Insurance Update
(This article appeared in the September/October 2004 issue of The American Postal Worker magazine)
John R. Smith, Director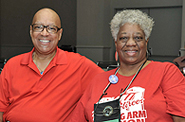 The Federal Long Term Care Insurance Program (FLTCIP) was created by the Long Term Care Security Act, which was signed into law by President Clinton on Sept. 19, 2000. Fifteen months later, the Office of Personnel Management selected John Hancock Life Insurance Company and Metropolitan Life Insurance Company as the insurers for the federal program.
Long-term insurance limits your share of the costs associated with injuries, illness, or simply aging. Long-term insurance is intended to help when you need assistance with every-day activities.
The program covers skilled, intermediate, and custodial care in your home, at adult day-care centers, at assisted-living facilities, in nursing homes, or in hospice facilities.
Some plans, such as the federal long-term program, also cover home-care costs incurred through "informal providers," such as friends, neighbors, and family members who may not have been living with you at the time you became eligible for benefits.
Eligibility and Cost
Long-term care can be very expensive. One reason many people decide to buy long-term insurance is because - sometimes in the very short term - needs otherwise covered by the FLTCIP program easily can exhaust your savings.
The National Defense Authorization Act for 2004 makes three additional groups of individuals eligible for this insurance, including: active employees and retirees who were first employed by the Washington, DC, city government before October 1, 1987; federal deferred annuitants who separate with title to a deferred annuity, even if they are not yet receiving that annuity; and retired military reservists, even if they are not yet receiving retirement pay.
Previously, the Long Term Care Security Act of 2000 outlined who is eligible to apply for the federal program. FLTCIP administrators refer to those in the eligible groups as "The Federal Family," which includes federal and postal employees and annuitants, members and retired members of the uniformed services, and qualified relatives.
Surviving spouses of active, retired, or deceased members of the uniformed services who are receiving a federal survivor annuity are also eligible. They are considered eligible as qualified relatives, however, rather than as annuitants.
Qualified relatives include: current spouses of employees and annuitants; surviving spouses of members of the uniformed services who are receiving a survivor annuity; adult children, including adopted children and stepchildren of living employees and annuitants (and who are at least 18 years old); and parent, parents-in-law, and stepparents of living employees.
The Plans
There are four pre-packaged plans. The "Facilities 100 Plan" covers care in nursing homes, in assisted living and hospice facilities, and for respite service provided in a facility.
The three other plans are known as "comprehensive" plans. The "Comprehensive 100," "150," and "150+" plans cover everything in the "Facilities 100" plan, plus home care, adult day-care, hospice care and respite service in the home, or plans customized by consumers who mix and match the available benefit options.
If you choose a long-term-care plan, the amount of your premium will be based, of course, on the coverage options you are approved for according to your age; your premiums will not change as you age or as your physical condition changes once your coverage has become effective.
More information as well as answers to your questions about FLTCIP can be found by visiting the Office of Personnel Management Long Term Care Web site at www.opm.gov/insure/ltc.
I was more than pleased to watch as delegates to the National Convention in August gave retirees two long-overdue rights. By paying the national portion of union dues, retirees will gain the right to vote for national union officers. Thanks to another convention vote, beginning with the 2007 ballot, the Retirees Department Director will be an elected national officer position.
Stay in touch with your union
Subscribe to receive important information from your union.