Unions Discuss Proposed FECA Changes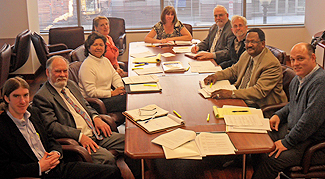 The APWU hosted a meeting of unions on Feb. 28 to discuss proposed changes to the Federal Employees Compensation Act. Analyzing the Federal Injured Employees Re-Employment Act (FIERA) were labor organizations that represent postal and federal workers, including the APWU, the American Federation of Government Employees (AFGE), the National Air Traffic Controllers Association (NATCA), the International Association of Machinists and Aerospace Workers (IAMAW), the International Brotherhood of Electrical Workers (IBEW), and others. The unions vowed to prepare a unified response to any changes to federal law that would strip injured workers of benefits. In the photo above, APWU Human Relations Director Sue Carney is shown seated at the head of the table.
Stay in touch with your union
Subscribe to receive important information from your union.